Hi everyone! Recently I posted a video on here, and on a few other sites for some feedback. Thankfully I received some great criticism on and off Indietalk. Due to this criticism I have completely re-done my proof of concept film / pitch. I have slowed the visual pacing, re-done the musical score to be less explosive, re-done a lot of the titles, cut away a lot of material and simplified the whole premise to just One movie and it's One accompanying Album. As before it was a whole rollout of multiple films++. I would highly appreciate your opinions on this new version of the concept film. As I am aiming to send this to Grant organisations, possibly even to investors.
Humanity Movie and Album proof of Concept film / pitch:
Here is the full written pitch I recommended in the video for those "interested" in the premise: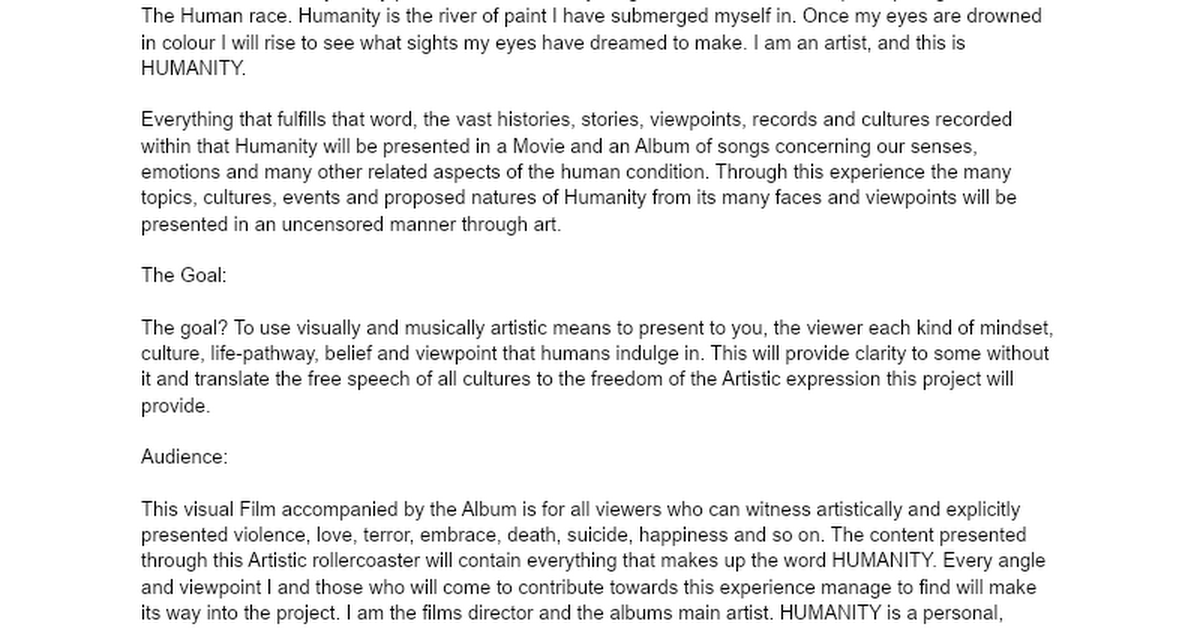 HUMANITY Full written pitch By Asher Pike 2000 words -Project summary Asher Pike is what my lovely parents named me, a young Australian man who is participating in a race. The Human race. Humanity is the river of paint I have submerged myself in. Once my eyes are drowned in colour I will ris...
docs.google.com
What I am going for in this proof of concept, is to encapsulate the largeness of the premise. As the purpose is to portray the Human mind through art. I would also love to know your opinions of the visuals themselves, how does this video make you feel? I am still working on many of these shots. Thank you for reading, all criticism and feedback is highly appreciated.
Sincerely, Asher.
Last edited: