Please do not post in the Showcase and Forum. Choose one. Thanks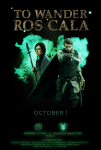 To Wander Ros Cala is a short film I have spent the last 3 years working on. I got my start creating Halo 2 machinima back in the very early days of YouTube, and since then have always been drawn to telling stories around the science fiction genre.
This film was created within a $3k budget, which can be tough for a fantasy film. We used costumes from resources we already had, which include friends who are involved in collecting swords and people involved in our local LARP community.
I'm now working with a group of writers to create a pitch deck for a TV adaptation.
Watch the film:
Any feedback is welcome!​