From Pitsea railway station in south-central Essex, around 15 miles from London, you can get to a lot of places. Trains go to industrial port Tilbury further south, seaside paradise Southend to the east (admittedly: my home), and of course the Big Smoke a few minutes west. Georgie (newcomer Lola Campbell), a 12-year-old girl motoring through the stages of grief since losing her mom to an unspecified illness, couldn't care less. The cookie-cutter estate where Georgie lives, all alone, is everything she needs. Debutant director Charlotte Regan and DP Molly Manning Walker make it feel like all Earth is there. Georgie's self-contained world matches up with a fierce self-sufficiency. Her primary caregiver, aside from fictional uncle "Winston Churchill," is Georgie. Even with Britain's notoriously stretched public services, children are not supposed to live alone.
No matter. With buddy Ali (Alin Uzun) and a camera roll full of videos of her mom to keep her company, Georgie doesn't seem particularly lonely, even during the six-week school summer holidays over which "
Scrapper
" is set. And with cash earned selling stolen bikes to a supportive neighbor, Georgie can even pay the rent. But mom isn't entirely gone: the pillows on the sofa are kept just the same as how she liked them, her favorite mugs are left untouched, and the centerpiece of Georgie's go-to outfit is mom's 1995-96 West Ham United home shirt.
Then dad Jason (
Harris Dickinson
) leaps over the back fence and into Georgie's life for the first time. Returning from Ibiza, where he worked as a club promoter and (presumably) a lookalike for English soccer star Phil Foden, Jason is ready for the next phase of his life: fatherhood. Or so he thinks. What happens when your child has ideas of their own? Georgie isn't fooled by her dad's gold chain or tattoo, either: he has almost as much growing up to do as she does. It helps that they speak the same language. Jason rationalizes his return in pre-teen terms: "It's my home," he announces. "I was here before you." The West Ham shirt was his once, too.
But they bond over how to steal bikes, Jason an out-of-practice Fagin to Georgie's Artful Dodger. Eventually they talk about Georgie's mom Vicky (Olivia Brady), too.
Set certainly within the past decade (there are smartphones and voice notes), Jason's jarring haircut and old-school references help make "Scrapper" feel decidedly '90s. Georgie's West Ham shirt and wall-fixed kitchen phone signal a bygone era, while her habit of yelling outside Ali's house for a spontaneous hangout is quaintly nostalgic.
There's nothing political about this, either; quite the opposite. Regan's film is seeped in the sort of timelessness that has enabled Brits' long-lasting love affair with television period dramas. You can be on the deck of the Titanic after she hit the iceberg, but the anxieties of today don't matter, innocence not yet lost.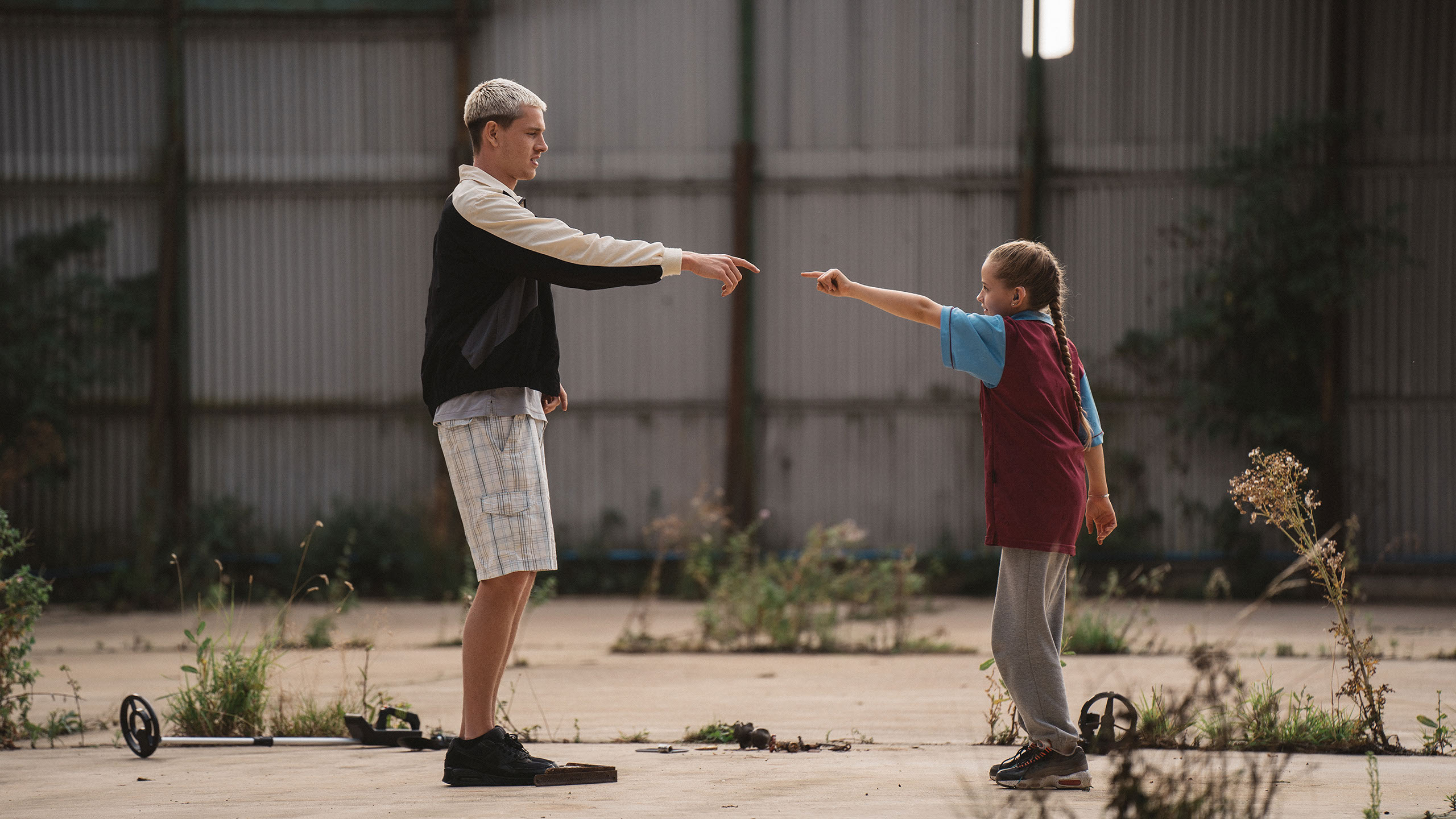 "Scrapper"
Chris Harris
And although "Scrapper" — and Georgie — have some rough edges, Regan's film is remarkably gentle, without being schmaltzy. Its wry observations are more effective than the big emotional swings "Scrapper" sometimes, but not often, chooses to take. Because it's a British debut by female director about a father-daughter relationship, "Scrapper" has already been compared with Charlotte Wells' terrific "Aftersun" (mostly, of course, by those trying to sell the movie; almost any film should be so lucky).
In truth, it's almost nothing like it. Where "Aftersun" uncomfortably probes emotional depths, "Scrapper" stays wisely light of touch. I found myself crossing my fingers that its characters would, in the end, be OK. It's not a spoiler to say they essentially are. This isn't the kind of film where huge amounts are immediately at stake: the greatest emotional blow of young Georgie's life has already happened and, as she less-than-trustfully insists, she has already gotten through denial, anger and bargaining. Only depression and acceptance, to go.
The softness of "Scrapper" shouldn't be mistaken for a lack of ambition on Regan's part. Georgie and Jason just have a little less to worry about. Dickinson is wonderfully natural as a simple man with little to hide. When Georgie finds a rifle bullet in his bag, she and Ali speculate that he might try to kill her. Jason takes Georgie on the train to the outskirts where he grew up, and reveals he found the cartridge while metal detecting as a boy.
Still, Georgie has reason to be angry. Now 30, Jason dipped around the time Georgie was born. "We were kids," Jason says, a brusque explanation for his immaturity that's also a reminder he was then closer in years to Georgie than to his current self. And like Georgie, he's a bit of a scrapper himself. Regan doesn't judge her characters so much as introduce us and let them endear themselves. Campbell and Dickinson duly oblige.
Though it doesn't strive for the dramatic highs and lows its actors could probably pull off, "Scrapper" is a smart, sensitive debut and a promising arrival for its talented director.
Grade: B+​
"Scrapper" premiered at the 2023 Sundance Film Festival. It is currently seeking U.S. distribution.