I hope this message finds you all in good health and spirits during these somewhat crazy and tumultuous times.
I've been busy with few projects, one of them is this little independent feature film,
Friends Like These,
that I would like to share some exciting news.
Putting together
Friends Like These
, was a true labour of love, and a collaboration between many creative minds and upcoming Vancouver based talent/cast, like Kiran Madahar, Jillian Zavazal, and Josh Romyn. Also features Matreya Scarrwener. It was lensed by multitalented cameraman Bryn McCashin and edited by an award-winning editor Fred Thorsen. Filmed locally on Bowen Island.
Friends Like These
is also fortunate to feature some of amazing original Canadian independent music from
Harlequin Gold
(was on a tour across the USA in early March 2020 before the travel restrictions),
Jenny Banai
,
Daev
and
The Little Coyote
(was to be featured at SXSW festival last year).
At The MMXXI Foreman Empire Productions International Film Festival in Atlanta, Georgia last summer, we were multiple winners (
Cinematography
-
Bryn McCashin
,
Best First Time Producer for Motion Picture
-
Zoran Dragelj
and
Festival Director's Choice
-
Zoran Dragelj
, as well runner ups for The Best Feature, International Feature, Soundtrack, Film Poster, and Ensemble cast).
Friends Like These
premiered at in Los Angeles late last Spring, and was a runner up for a cinematography award at The Kansas City Film Festival last Fall.
Friends Like These
is CRTC certified. Also currently it is streaming on
Amazon Prime
,
Amazon Canada
, Australia, and UK.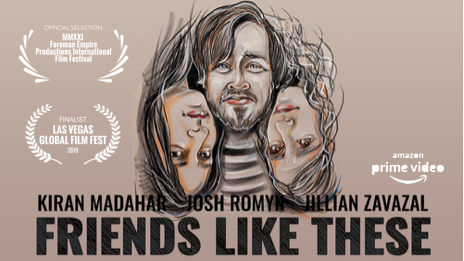 Here is the link to our trailer:
Friends Like These (official trailer) 2019
Also I would like to share these recent articles and reviews.
One was in MovieMaker Magazine by Tim Molloy (screen grab attached below), IndieActivity and Emily Carr Alumni Newsletter
https://www.indieactivity.com/friends-like-these-by-zoran-dragelj-from-blitzcinema-is-a-delight/
https://www.indieactivity.com/case-study-the-making-of-friends-like-these-by-zoran-dragelj/
Zoran Dragelj, Executive Produced "Friends Like These" Canadian Style
https://www.indieactivity.com/kiran-madahar-lead-on-friends-like-these-walks-you-through-her-craft/
https://www.ecuaa.ca/alumni-news/fi...vr7uavl0gJCo8CgOzDRE-_U_e_SNhPv6E2zLIPS9mqf-s
Our social media sites:
IMDB:
Friends Like These - IMDb
Instagram feed:
https://www.instagram.com/likethesefriends/
Facebook page:
https://www.facebook.com/friendslikethesefilm/
Keep safe. Take care.

Cheers, and Thank you for your support