After a whopping three hours and 35 minutes, the 2023 Oscars ended with a wave. Best Picture (
and Director and Screenplay
) winner Daniel Scheinert used his few seconds of stage time (following "Everything Everywhere All At Once" producer Jonathan Wang and fellow director Daniel Kwan) to look directly into the camera, thank the audience for watching, and wave goodbye. Like his movie, the parting words were a little cheesy, and like the ceremony that honored the A24 hit with seven trophies, it was delivered with low-key sincerity — maybe you won't remember his wave next year, but that's OK.
Why? Because it wasn't a slap.
The less said about last year's Oscars incident the better — after a year of reacting, analyzing, investigating, and
revisiting
Will Smith's assault on Chris Rock, we simply must move on — but it would be disingenuous to act as though it didn't affect what we saw from the 95th Academy Awards. After all, "The Slap" wasn't the only negative aspect from a truly
disastrous production
to inspire change. It was just the only thing mass audiences remember. So in 2023, with plenty of feel-good winners predicted to win (many of whom did, in fact, take the stage), it makes some degree of sense for producers to go all-in on an average telecast; for a night meant to honor artistic achievement to simply honor artistic achievements.
Mainly, they pulled it off. Scanning Twitter during the telecast and thinking back on the events now, it's nice to get back to nit-picking choices, rather than breaking down an unexpected act of violence. The 2023 Academy Awards did a lot right (they awarded all the categories, live!), and it got plenty of things wrong. ("The Little Mermaid" trailer marked an egregious and ominous overreach by Disney.) The headlines should be filled with long-awaited success stories and historically positive
milestones
. With a few years left on ABC's Oscars contract, the Oscars did what it needed to do in order to reestablish a baseline of competency. Did it inspire hope for next year, let alone the future of awards shows? Well, that's a different story.
Lady Gaga at the 2023 Oscars
ABC
So in the spirit of the night's big — and big-hearted — winners, let's start with the highlights. Host Jimmy Kimmel set a relaxed vibe from the outset, which isn't as easy as it sounds in a room full of dozens of nervous nominees and with two U.S. Navy Fighter jets zipping by overhead. After descending from the rafters in a parachute, Kimmel squeezed two Best Picture nominees into his opening line — "Give me a second to adjust my danger zone here — my banshees are caught in my Inisherin." — before lightening the mood with quips about Nicole Kidman's AMC theaters ads, Steven Spielberg
doing drugs
, and the force tying all actors together: "Encino Man."
That's not to say the late-night veteran played it safe. He called out "Babylon" for bombing (risking more ire from the film's cult fans than an industry that didn't like the film to begin with), took a jab at the Academy for its glaring nomination omissions ("How can you not nominate the man who directed 'Avatar'? What do they think he is, a woman?"), and Kimmel even fit a Scientology dig into the same line as a compliment for Tom Cruise. (Referencing "Top Gun: Maverick's" shirtless beach football scene, "L Ron Hubba Hubba, you know what I'm saying?")
Kimmel's opening monologue won't go down as historically hilarious or maddeningly inept — it was solid, and he continued to perform admirably during his intermittent appearances throughout the show. His one prominent post-monologue segment — the "questions from fans" bit while stage hands prepped for Rihanna's performance — may have done more harm than good, what with his unnecessary "La La Land" riff on Malala Yousafzai's first name and iffy revival of his fake
Matt Damon feud
. But it's also hard to be upset about getting Colin Farrell involved in the show, especially since he was robbed for Best Actor.
And that brings us to the Oscars' bread and butter: the speeches. Ke Huy Quan set a high bar, as the enthusiasm he's shown throughout a long awards season sparked plenty of joyful tears when his name was called by a weepy Ariana DeBose. He was the first of three "Everything Everywhere All at Once" actors to win, and the first of two to thank their 84-year-old mothers. (Michelle Yeoh did, too.) Ruth Carter kept the tears flowing and moms cheering; not only did the "Black Panther" costume designer win her second Oscar (becoming the only Black woman to ever win more than one Academy Award), but she dedicated her award to her mom. "This is for my mother," she said. "Chadwick, please take care of mom."
Sarah Polley's surprise Best Screenplay win — and a fittingly well-written speech — helped boost the final hour of the Oscars, along with "RRR" songwriter M.M. Keeravaani's speech sung to the tune of a Carpenters song and Yeoh's triumphant address to all the "little girls watching who look like me" and any woman who's presumptively been told they're "past their prime." Meanwhile, Brendan Fraser's intense jubilation was only topped by the sweet excitement conveyed with near-complete level-headednes by repeat winners, the Daniels.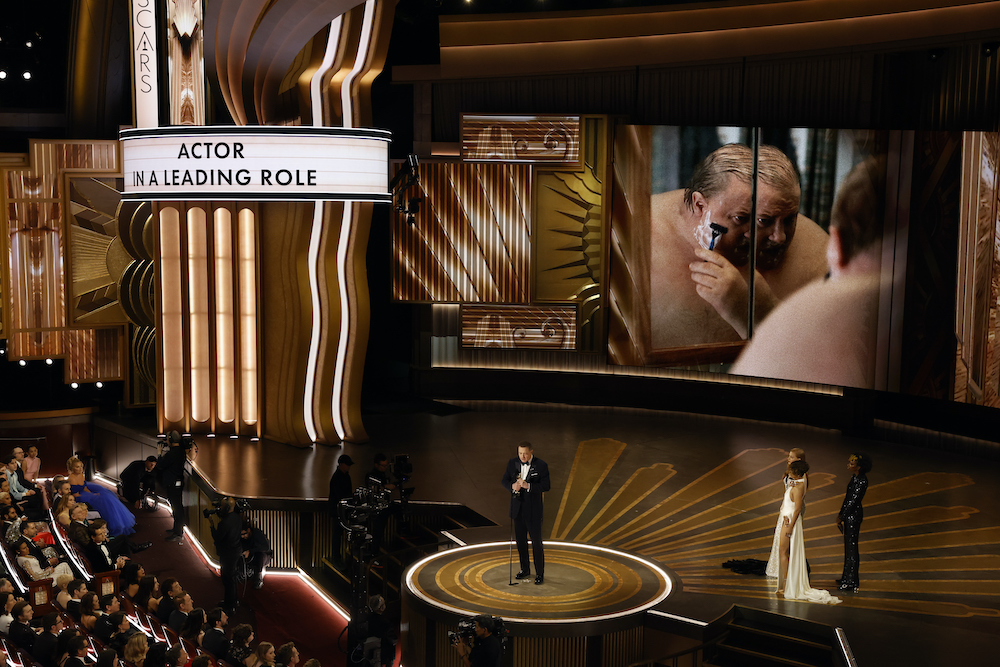 Brendan Fraser at the 2023 Oscars
ABC
No, the Oscars didn't go wrong with the speeches (though, per usual, there were a number of quickly forgotten duds). Issues arose with the telecast's construction — like, say, including an ad for Disney's big summer tentpole
in
the actual ceremony. "Little Mermaid" stars Melissa McCarthy and Halle Bailey took to the stage to present a trailer for the live-action remake, essentially
eliminating the line
between the Academy and its network partner. Utilizing the Oscars as a launching pad for upcoming movies is a great idea, but promotional tools that blunt have to be kept to the actual commercials.
On a technical level, pacing was a recurring problem, too. After Jamie Lee Curtis made it back-to-back wins for "Everything Everywhere" — and back-to-back big, emotional speeches — the show didn't cut to a commercial, like it usually does. Instead, they segued into the first Best Song performance. Quan and Curtis' big moments didn't get a chance to settle in,
and
Diane Warren's performance felt overshadowed by them — a point emphasized by telecast director Glenn Weiss cutting to the two actors backstage while Warren was getting an ovation from the audience.
The Best Song performances were a mixed bag as well. After Rihanna's excellent Super Bowl performance, there was plenty of excitement for her Oscars moment, but the "Wakanda Forever" number came and went rather quietly. Lady Gaga's number strained to recreate the intimacy and impact of her iconic "Star Is Born" duet with Bradley Cooper, but the extreme close-ups felt shaky and discombobulating for a song that's meant to soar. (Even a stripped down version demanded a level of stillness Gaga gave off with vibrancy, but the camera betrayed with its laborious attempts to zoom and track, zoom and track.) Even the much-anticipated "Naatu Naatu" dance routine
drew criticism
for its overly faithful adherence to the film and a lack of South Asian artists involved in the production. (The stage proved to be another visual peculiarity, as the backdrops themed to each winner provided
cool frameworks
for some speeches and
haunting choices
for others. I did love the use of marquees, though!)
Still, the 2023 Oscars made it through unscathed. It's more than likely this year's ceremony will be remembered for the winners — which is really the ideal takeaway for a show that only exists to honor our finest filmmakers — even though plenty of questions will linger once the ratings come out. Should producers be taking bigger swings amid declining viewership? Or should they be doubling down on the ceremony's fundamentals and strive for a polished, respectable production? Those are crucial questions, just not this year. In 2023, the Oscars just had to save face.
As the absent Tom Cruise once said — a bit preemptively, sure, but still true:
"Mission accomplished."
Grade: B​
The 95th Academy Awards were held Sunday, March 12 in Los Angeles, California and aired live on ABC.