It's not just
cutting corners on the new "Ant-Man" movie
. Visual effects workers across the industry, roughly two-thirds to be precise, believe their working conditions are not sustainable due to a severe lack of health care, retirement options, overtime pay, and training in their field.
That's the opinion of hundreds of
VFX
professionals across Hollywood who participated in a
survey launched by IATSE
and
published Wednesday
in an effort to finally get VFX workers organized as a union.
Organizers on behalf of
IATSE
spoke to press Wednesday about the "alarming," yet not surprising, survey results, which also revealed that nearly nine out of 10 VFX workers feel they have no means to negotiate for their rights or for solutions to burnout, wage theft, and unsafe working conditions. Armed with this information, IATSE hopes to launch a formal VFX union later this year. The timing may be fortuitous given the other impending labor negotiations, including a potential writers' strike.
"These findings paint a picture of an industry in a crisis," Mark Patch ("Tenet," "Nope"), a VFX worker and organizer for IATSE told press. "This isn't just about information sharing. It's about democracy in the workplace. It's about justice. It's about winning your union representation for these workers this year."
One of the VFX workers' driving concerns is health care. Just 12 percent of "client-side" VFX employees, meaning people employed directly by a production company and working under the supervision of the studio, said they received portable health care that can carry over from project to project; 43 percent didn't receive any benefits at all. Only a quarter of "vendor-side" VFX workers, or those who work for major VFX companies, also receive portable health care. A third receive no health care benefits at all.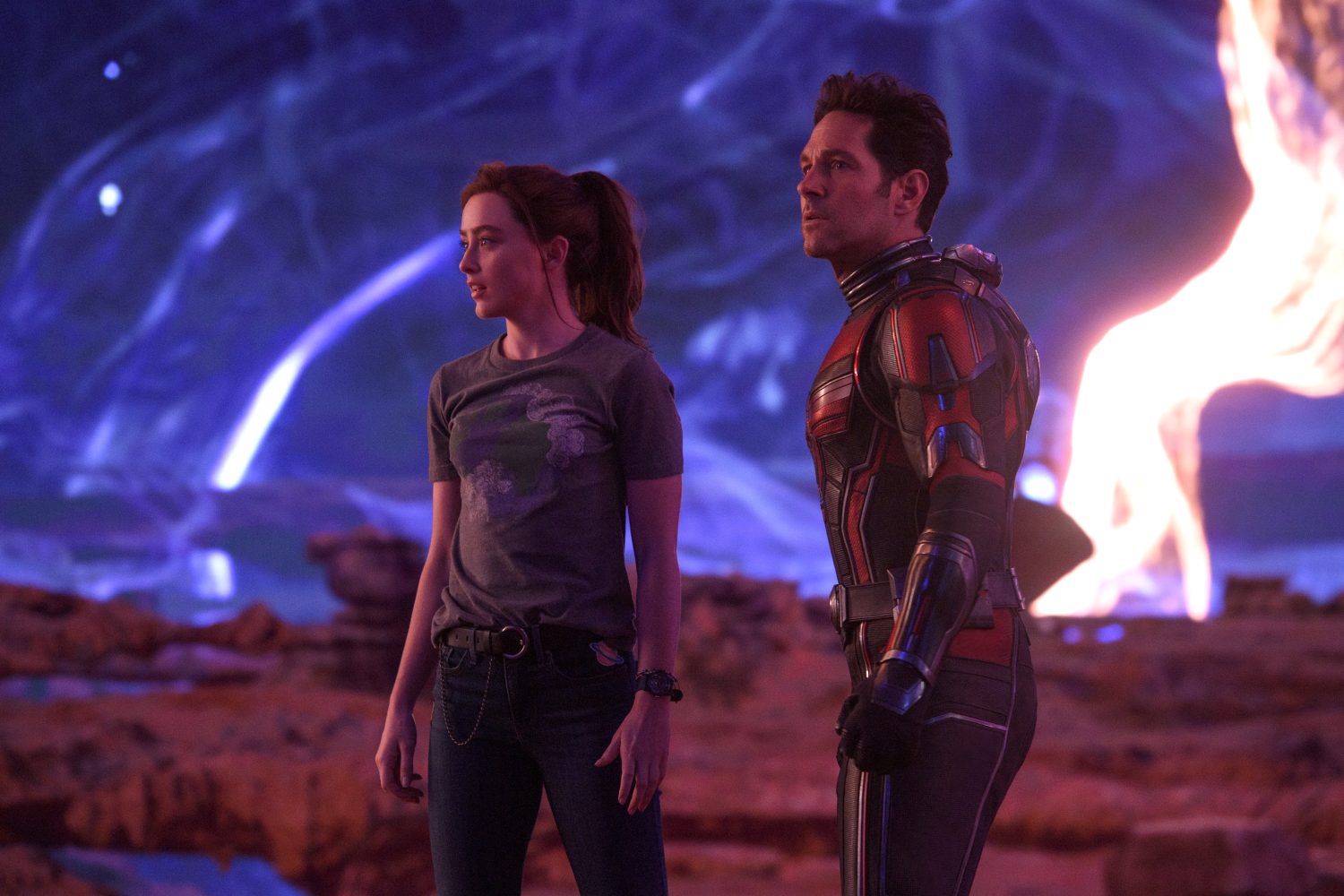 "Ant-Man and the Wasp: Quantumania"
Jay Maidment
Just 15 percent of client-side workers receive retirement benefits, as do less than half of vendor-side workers. A majority of workers across the client-side of the industry said they didn't get paid for overtime hours, sometimes for over 12-hour days, or are forced to work through lunches and meals without meal penalties.
The survey also polled workers about safety levels and about available training. Patch said VFX workers can be thrown into the deep end on set to figure out how to capture dangerous stunts or explosions in the interest of saving money and doing things in post-production.
"These workers often have no recourse for lodging their complaints with anyone besides the producers, who may have ordered them into these conditions in the first place," Patch said. "This contributes to a culture of silence, as workers don't want to be seen to be difficult, because every future job opportunity is based on personal relationships."
Finally, the survey published an extensive list that breaks down wages across the industry for every major VFX role. On the low end, a client-side production assistant on average receives $1,050 per week, or $15 an hour, assuming a 60-hour work week; a key VFX supervisor receives on average $71.43 an hour. With no overtime pay, that might amount to less than minimum wage for the lowest-paid employees. Patch said that while client-side employees may get higher weekly rates than counterparts who work for a vendor, they have little stability when a movie or show wraps.
"These vendors and studios are engaged in a worldwide race to the bottom, and the costs are getting passed along to the workers," Patch said. "They will always try to get away with paying us as little as possible, because there's no standard rate set across job titles on either the vendor or the client side. There's a wide variation which reflects the lack of transparency that currently exists about how much workers can demand for their time."
Efforts to get VFX workers organized are not new. A push for a union dates back to at least 2013, when the company behind the Oscar-winning effects on Ang Lee's
"Life of Pi" went bankrupt
, and the winners were played off stage by the "Jaws" theme song before they could speak out.
"Life of Pi"
©20thCentFox/Courtesy Everett Collection
Ten years ago, VFX artist Maggie Kraisamutr wrote an
article for IndieWire
about industry conditions she saw as untenable and drove her to work 187 hours across two weeks. Kraisamutr is part of IATSE's latest labor push and shared a story with press about collapsing at her desk while trying to complete work on a show and even saw her chronic disease turn "gangrenous" as a result. Since then VFX has only become more in demand and many problems she faced have gotten worse and more widespread.
"Most visual effects workers I've known can barely survive more than five years in our industry without having the benefit of employer-sponsored plans like pension or 401k," Kraisamutr said. "I don't see how a career in visual effects could be sustainable for the long term. For a single person, maybe, but if you want to raise a family, the odds are stacked up against you. I believe that we all know this industry is not to0 kind to families."
One reason VFX workers are the last major group in Hollywood without union representation stems from the the industry's swift and global evolution. Fast-moving technology that creates new roles overnight complicates efforts to get workers organized or lobby for demands. Unionization also risks driving work away from the U.S. and Canada to areas overseas that are outside IATSE jurisdiction.
The difference in this attempt is IATSE now highlights employees working directly for studios and production companies, many of whom work directly with crew members with union representation. IATSE can start organizing on a studio-by-studio basis in moment when VFX work is too big — and too essential — to ignore.
"When they see that their immediate co-workers are all covered by collective bargaining agreements and you're working on set, that contrast of inequality is stark," said Ben Speight, organizer with IATSE International and the Animation Guild. "We are not having to persuade or convince VFX workers that they need a collective voice on the job. Workers are being more bold about their demand for organizing. We believe that in 2023 there will be an opportunity to move a supermajority of workers at major studios or VFX houses to actually win union recognition. We're moving from protest to power."
Are you a worker in Hollywood facing unfair working conditions? Have thoughts about upcoming labor negotiations? Email the writer at bwelk@indiewire.com.