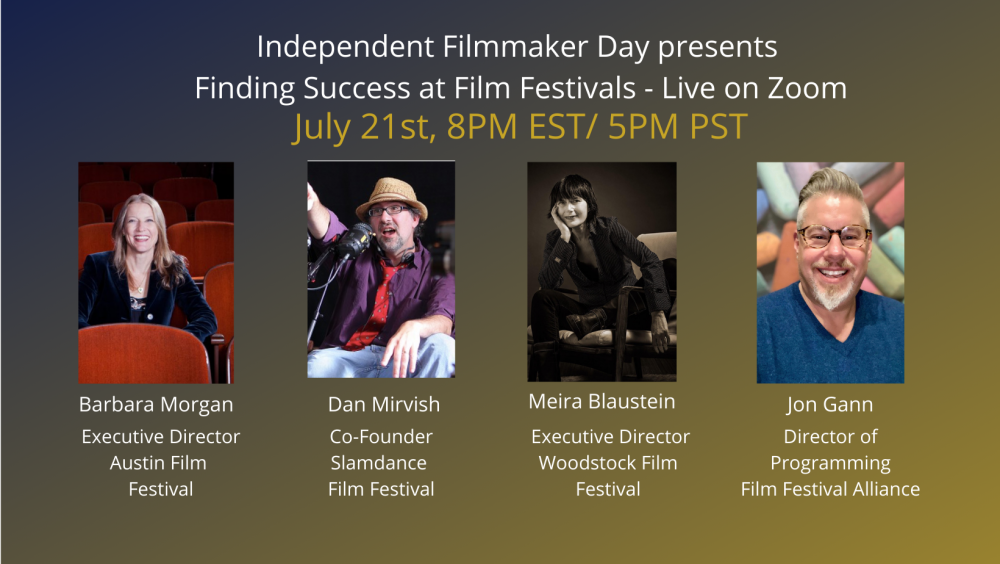 Join us for an Amazing discussion and Q&A to learn secrets how to enter and win film festivals! You can purchase your ticket
HERE
! Use Code IFDINDIE20 for 20% Off!
Independent Filmmaker Day presents a Zoom Discussion and Q&A entitled, Finding Success at Film Festivals. Learn secrets from the experts how to enter and win film festivals!
Topics include:
* Current state of the industry and its Challenges/Obstacles
* How the industry is changing
* What you need to do in order to maximize your chances of successfully getting your project into Film Festivals
* How to win at Film Festivals
* Secrets to maximize success
* Final Insights and Pro Tips
More on the Presenters:
1) Barbara Morgan - Barbara Morgan co-founded Austin Film Festival in 1993 and has served as the sole Executive Director since 1999. As a filmmaker, Morgan developed and produced the film Natural Selection, which has aired on Showtime, the Sci-fi channel, and was released internationally. Morgan also co-produced the feature documentary Antone's: Home of the Blues, which as also released internationally. Most recently, Morgan produced the documentary feature, Portrait of Wally(2012), and the narrative feature Spring Eddy(2012). She developed and produces the TV/Radio/Podcast series On Story, currently airing on PBS and PRI stations across the country. In 2010, Morgan produced a reading of Bud Shrake's play "A Friend of Carlos Monson" with director Jeff Nichols. In 2013 Morgan co-edited "On Story: Screenwriters and Their Craft", which was published by UT Press. Morgan serves on the Board of Directors for a number of organizations, including International Film Festival Summit and The Wittliff Collections at Texas State University.
2) Dan Mirvish - Dan Mirvish is a director, screenwriter, producer and author. He's currently in post-production on his new feature, 18½, a 70s Watergate thriller/dark comedy. Prior to that, he directed the award-winning, critically-acclaimed feature Bernard and Huey, scripted by Oscar/Pulitzer-winner Jules Feiffer, and starring Oscar-winner Jim Rash and David Koechner which screened in over 30 film festivals on 5 continents and had a 20-city US theatrical release, and has sold to over 49 countries. The film won several festival and end-of-year awards and nominations, including Best Picture, Best Director and Best Screenplay. Dan is the author of the bestselling non-fiction book The Cheerful Subversive's Guide to Independent Filmmaking from Focal Press/Routledge, with a 2nd Edition coming July 6, 2021. His film Between Us, an award-winning feature starring Julia Stiles and Taye Diggs, played in 23 festivals in 7 countries, and got a 50+ city theatrical release in the US, and sold to 144 countries, plus screening on Netflix, Showtime, Starz and all digital outlets. Dan was mentored by Robert Altman on his first film, Omaha (the movie), which led him to co-found the upstart Slamdance Film Festival. His film Open House prompted the Academy Awards to controversially rewrite their rules on the Best Original Musical category. Mirvish also co-wrote his bestselling, critically-acclaimed novel I Am Martin Eisenstadt based on the fake McCain advisor who took credit for Sarah Palin not knowing Africa was a continent. A former speechwriter for U.S. Sen. Tom Harkin, Dan has a master's degree from USC film school, is a member of the Directors Guild of America and has guest lectured at more than 40 film schools and universities.
3) Meira Blaustein - Meira Blaustein is the Co-Founder / Executive Director / Programmer of the Woodstock Film Festival. The Festival was launched in 2000 and has quickly become one of the most respected and influential regional film festivals in the US. Blaustein has been running it ever since. As an international consultant Blaustein also co-founded and developed the Cabo International Film Festival in Cabo San Lucas, Mexico. In 2014 Blaustein consulted and mentored the emerging film community in the Faroe Islands, and in 2015 she served as head consultant for the first annual Bhutan International Film Festival. A filmmaker by training, Blaustein has directed, produced or consulted on numerous feature films in various stages of development. She is currently in development as producer on the full length documentary The Drivers, as well as on a feature narrative to be shot in the summer of 2017. An accomplished writer and contributor to well-known media outlets in film and culture, Blaustein has covered film, film festivals and related events for daily and monthly publications including Indiewire, Poughkeepsie Journal and i-D magazine. A sought-after speaker on diverse subjects ranging from marketing and outreach strategy to developing and funding film and media programs, she has served as juror, speaker, mentor and panelist at a variety of film festivals and special events in Bhutan, The Faroe Islands, Norway, England, Israel, Texas, Utah, Florida and New York.
4) Jon Gann - Jon Gann is the Director of Programming for the Film Festival Alliance, the first non-profit organization formed to professionalize festival organizers. He is also the shorts programmer for both the SF Indie Fest and the Port Townsend Film Festival. Jon is the Founder of DC Shorts, a non-profit organization championing short filmmaking, and the creator of the DC Shorts Film Festival, one of the country's premier short film showcases. He has also served as the Executive Director of CINE, a 58-year old organization that honors the best in film, TV and digital media with the prestigious CINE Golden Eagle Award. Through his Reel Plan consulting firm, Jon has bridged the communication gap between competing film festivals, so all can share film information, sponsor strategies and filmmaker data. He also works with dozens of filmmakers on festival strategies and niche marketing. Published in 2012, his book "Behind the Screens: Programmers Reveal How Film Festivals Really Work' examines how 16 programmers and organizers curate, collect, watch and select films for their festivals. The frank insights reveal the inner-workings of an industry that is often misunderstood. Published in 2015, his book "So You Wanna Start a Film Festival," he interviews 16 festival creators from international events (Tribeca, SXSW) to niche events (Citizen Jane, Reel Shorts) about the process and trials of starting a film event. Jon has presented at over 120 universities, film organizations and film festivals worldwide, and has spoken at the International Film Festival Summit, Art House Convergence, and TEDxWDC. He is a founding Board Member of the Film Festival Alliance, the first organization to normalize the festival space, and sits on the Advisory Board at George Mason University's School of Film & Video Studies. As a filmmaker, Jon's notable past projects include: "Cyberslut," the first gay-themed short film to screen at over 50 festivals and broadcasts worldwide; "Signs," a national 48 Hour Film Project award winner, and "Offline," a modern dating parable.
Ticket Information:
The entire event will take place on Zoom. Once you purchase your ticket, you will receive a Zoom link to register for the event.
Independent Filmmaker Day is a a community that helps independent creators from around the world develop new projects, connect within the industry, and champion collaborative and impactful storytelling at all stages. We are a community of directors, producers, actors, and film buffs. We host day-long events held alongside premier film festivals ~ such as Cannes, Sundance, and TIFF ~ that foster the development, production and promotion of projects in film, media and beyond.