Hello! Does the picture below tell you anything?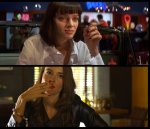 If yes, then you need to get in touch with us.
For our next project "
Beasts
" we are hunting for new talents that can support us in the production of the film. Any amount of support, both financial and non-financial, can make a huge difference in the production of this film.
Wanna get on board? Read more about
our campaign
and get in touch with us via email:
productions.electricsheep@gmail.com
Peace, Love and 4 cheese pizza
Giorgio