With final Oscar balloting closed on March 7, we're continuing with our sixth annual series of interviews with Academy voters from different branches for their unfiltered takes on what got picked, overlooked, and overvalued in the 2023 award season. Interview edited for brevity.
Generally this has been a lackluster year. The Academy portal helps. For the international films I had to watch eight films, and 15 more in order to vote. It's a lot easier to do that from the comfort of one's home, if you don't live next door to the Academy.
Best Picture
I toggle back and forth between "TÁR" and "Women Talking" with "Everything Everywhere All at Once" a close third. "Women Talking," I might push to the top because it has less of a chance than "TÁR."
"TÁR."
I loved it being reversed: not just men behaving badly but women behaving badly. That scene at Juilliard is brilliant, you knew it was going to catch up with her. I liked it a lot. It falls apart a little bit at the end.
"Women Talking"
was terrific, cleverly done, to do it all in that room, virtually and keep one's attention. The mise-en-scène was good and the performances were incredible. This real dilemma to stay or leave: they kept you compelled. Sarah Polley did a terrific job.
"Everything Everywhere All at Once"
was the second film I saw in a movie theater post Covid, a great place to see it. Really inventive and wacky and brilliant, I enjoyed that. A Disney mad ride. The humor and performances and design took you places you had never been before.
"The Fabelmans":
I know it spoke to a lot of people. Some feel Steven Spielberg hasn't received his due, Oscar-wise. It's a personal story; here he is spilling out his guts and he should be rewarded. I liked it but it's not one of the better films.
"Banshees of Inisherin":
I'm just so squeamish, I couldn't get over the the cut-off digits, I couldn't get beyond that, couldn't understand the point of it.
"Top Gun: Maverick."
Honestly they spent all this money on fantastic pyrotechnics and stunt sequences, but it's the worst script known to mankind, so lame. There was no sense of humor. Making fun of itself was completely lacking. I thought it would be fun, but was irritated when they suddenly find a plane that miraculously can start flying!
"Avatar: The Way of Water"
©Walt Disney Co./Courtesy Everett Collection
"Avatar: The Way of Water."
I saw it in a movie theater with the 3D glasses. It was fucking amazing, the visuals were incredible. They spent money on that stuff. The script? How many years of working and they couldn't come up with a better script? I was disappointed. But the movie was extraordinary, a complete visceral experience.
"Triangle of Sadness."
That's such a weird movie. "Force Majeure" was brilliant, "The Square" not so much — it had moments. I went into this thinking it was a statement about society, the have and have nots, greed. But it just went on and on. I lost interest, everybody was awful and behaved badly. The ending: "so what's the point?" It started out as a comedy, but in the end it didn't feel that way.
"All Quiet on the Western Front."
It was well done. Beautifully shot. The original said it all. Not sure of the point of this remake. The German point of view felt fake to me. It didn't engage me. I appreciated it. Surprised when it made it to the final lists. Didn't think it was that galvanizing.
"Elvis."
The film was a struggle between the Colonel Parker story and the Elvis story. When I read up on it afterwards, I wished the Parker story had more explanation to it. Austin [Butler] was terrific. At the end they opted not to show any of the bloated Elvis, which was so much who he became, and said everything about his deterioration. To keep him handsome and thin all the way through missed the point of it.
"Argentina, 1985" starring Ricardo Darin, and Peter Lanzani
©Amazon/Courtesy Everett Collection
International Feature Film
I would go for "Argentina 1985," a fascinating story based on a piece of history I didn't know about. It was well-recreated. "EO" the Polish film is pretty terrific. "Close" I liked, it's getting a lot of publicity. "The Quiet Girl" is soapy, not on any level compared to the ones I liked.
Costume Design
To me the sign of a really good film is when you don't notice the costume design. If it's successful it shouldn't grab your attention too much. I voted for "Everything": very creative and witty, both ordinary everyday constants and fantastical costumes. The costumes in "Black Panther: Wakanda Forever" were the best things about that film. Ruth Carter is a genius, but she's already won. I'd like somebody else to have a go. Catherine Martin's "Elvis" costumes were terrific, well researched. The problem I had with that film: it was recreating known costumes, which she did beautifully. "Elvis" seemed like a shoo-in. I wanted to give props to "Everywhere."
Dan Kwan and Daniel Scheinert, winners of the Outstanding Directorial Achievement in Theatrical Feature Film award for "Everything Everywhere All at Once"
Getty Images
Director
"TÁR," Todd Field, and the two Daniels. I'm not sure who I would put first. Probably the two Daniels. They're less likely to get the acknowledgment they should.
Actress
Definitely Cate Blanchett. Her performance was extraordinary. Riveting. And her clothes were so divine. Andrea Riseborough got nominated because the actors pushed her. Why weren't more Black actresses nominated? If you had a group pushing Riseborough it gets complicated. I don't object, but how she got it and how it tainted the whole situation is problematic if Black actors aren't nominated. Suddenly the whole Academy is to blame. If they go gender free, I'll have to resign.
Actor
"Living" was sad and sentimental. Bill Nighy's performance was so great, it touched me, the fact that somebody could go through that kind of change. It was beautifully done. The supporting actors were great. It was a delve into another time where there was still hope. I have to go with Bill Nighy. But Paul Mescal is a close second [for "Aftersun"]. He was excellent. "The Whale" is an amazing, touching piece but I would have preferred it as a play. I was very distracted about the fat suit, how they did it and where did it join. On the big screen you get more caught up in that stuff, in a theater you wouldn't.
Kerry Condon in the film THE BANSHEES OF INISHERIN. Photo by Jonathan Hession. Courtesy of Searchlight Pictures. © 2022 20th Century Studios All Rights Reserved.
Jonathan Hession
Supporting Actress
"Banshees of Inisherin": Kerry Condon was good in a slightly thankless role. Hong Chau ["The Whale"] was very good too. Tough choice between the two of them.
Supporting Actor
Judd Hirsch on screen for two minutes [in "The Fabelmans"]. Of course he's terrific, but really! Brian Tyree Henry was fantastic in "Causeway," which was undersold: He's moving and real. Love him in "Atlanta."
Adapted Screenplay
Have to vote for Sarah Polley for "Women Talking." We've got to get some women in there. I haven't read the original book. I'm doing it probably more for the feminist cause than the brilliance of the writing. [Polley] did a great job. Ish [Kazuo Ishiguro] would be a close second. "Living" was beautifully done.
Original Screenplay
I toggle between "TÁR" and "Everything." Maybe "TÁR" has the slight advantage. They're both incredibly original. That's a pleasure.
Cinematography
"TÁR" again. I didn't like "Bardo," but it was beautifully shot. "Empire of Light" also had certain beauty to it but it was disappointing ultimately. All that talent gone to waste.
Editing
"Everything," I could vote for. I was watching a bit of it today, wanting to listen to the David Byrne song, I would give it to "Everything," with "TÁR" a close followup.
Makeup and Hairstyling
"The Whale" was extraordinary.
Production Design
I disliked "Babylon." It felt so inauthentic. Margot Robbie would never have hair like that. I would give it to "Avatar: The Way of Water," which was working on a whole different scale. It's done digitally. It was fantastic. Or "Elvis," which also looked great: a different technique of design.
Original Score
I'll vote for "The Banshees." That was beautiful.
Song
"Naatu Naatu" is a fantastic dance number, not so much the actual song. We started to watch "RRR." I'll go back to it. I did like David Byrne's song for "Everything Everywhere." I haven't made up my mind. Those two would be the top ones.
VFX
"Avatar: The Way of Water"
"Marcel the Shell with Shoes On"
A24
Animated Feature
I was disappointed in "Guillermo del Toro's Pinocchio." I liked "Marcel the Shell with Shoes On."
Documentary Feature
It's a good year for documentaries. It's the most mysterious branch, how could they not vote for "Leonard Cohen's Hallelujah"? It's a good film that tells the story of talented private artists. The tendency is that Best Documentary has to be about something life-changing, Why can't it be entertainment?
"Navalny" is terrific. I resisted seeing it because I thought it would be too depressing, but he is so charming and witty. It's such a good tragic story, knowing he's still locked up and treated horribly.
"All the Beauty and the Bloodshed" is great too, it was a fascinating story of Nan Goldin, her trajectory from fucked-up childhood to drug addict to artist to activist. She changed the way museums thought about the Sacklers. That was hugely impressive. I'm compelled by that. "Fire of Love" was extraordinary and poignant. You know they're going to die. The passion they had and the compulsion they had that was doomed!
"All that Breathes" and "A House Made of Splinters" were also compelling and touching. The heroism of people in these ecological war zones is unimaginable. It's a tossup between "All the Beauty" and "Navalny."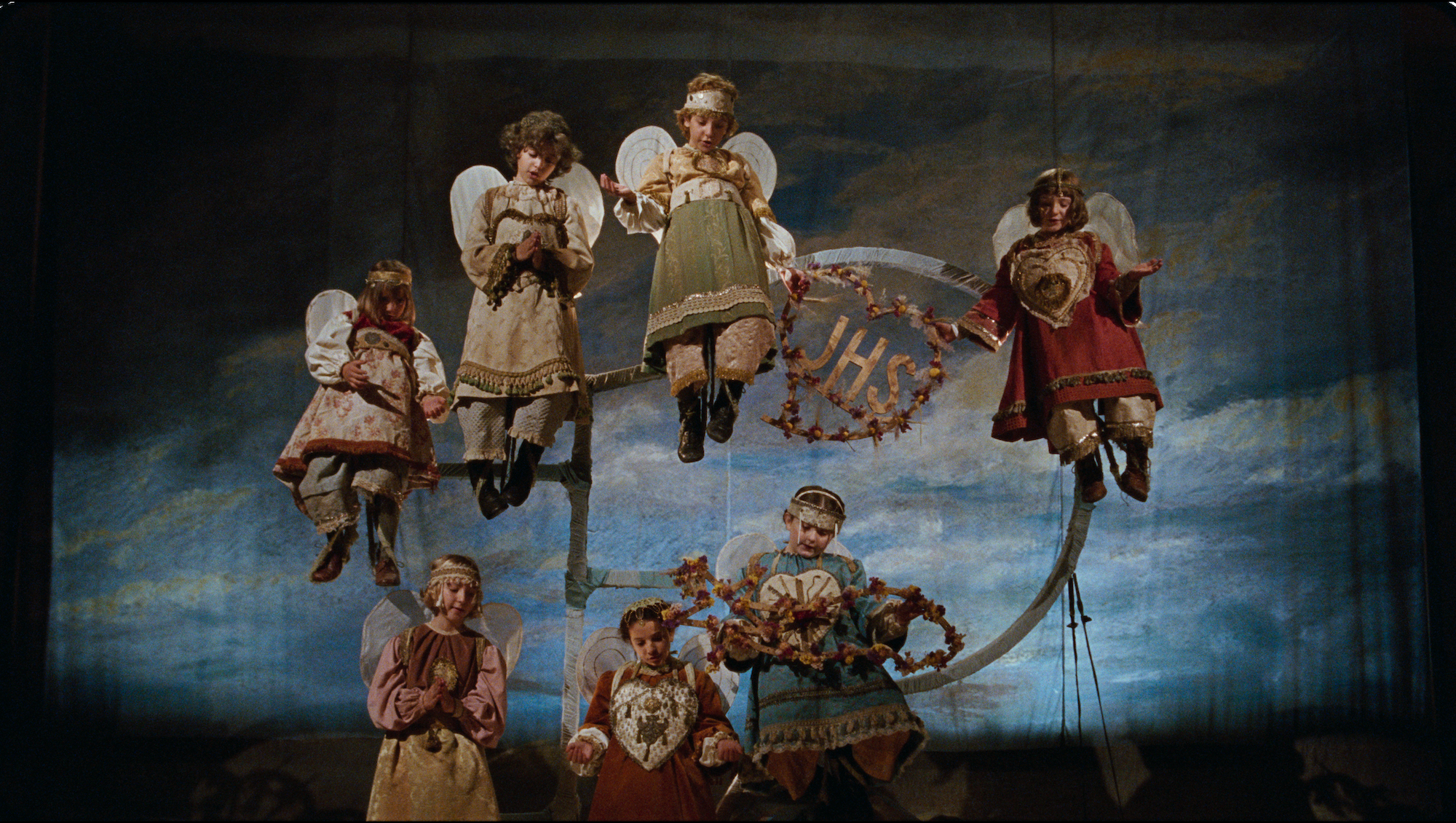 "Le Pupille"
Disney+
Live Action Short
"Le Pupille" is incredible, a big production. These shorts are getting more advanced. I thought they were entry level for people to make films and get discovered. This is a massive production by Disney+. I slightly question the direction these shorts are going in, seems a bit of unfair.
Animated Short
"My Year of Dicks" is charming. and real. It felt less glossy.
Documentary Short
"The Martha Mitchell Effect" is a fascinating story. I didn't know about how much she had been vilified, and had suffered. It's a classic tale of women not being paid attention to. And she created her own downfall: it's a two way street. And "The Elephant Whisperers" is touching. The idea that these people are so dedicated to the wellbeing and preservation of animals, and willing to sacrifice their lives for it, the relationship between the two carers and the elephants, seeing them in the wild like that and their relationship with their carers. If it can support the preservation of elephants, that's good.