[Editor's Note: The following contains spoilers for "All Creatures Great and Small" Season 3, Episode 5, "Edward."]
Over nearly three seasons, Mrs. Hall as been the emotional foundation of "All Creatures Great and Small."
Anna Madeley
has played her as a shoulder to cry on, a wind at the sails of her trusted friends, and a compassionate listener in both good times and bad. In Episode 5 of the show's Season 3, now available via
PBS
, "All Creatures Great and Small" gave Mrs. Hall her own moment in the spotlight.
In "Edward," Mrs. Hall finally gets the chance to meet her estranged son. Now a young man, Edward (Conor Deane) is almost a different person from the young child she last saw. As Edward faces an imminent deployment in the early days of World War II, he takes the opportunity to meet his mother for a short afternoon at a train station. If that meeting looked like it featured two people unfamiliar with each other, figuring out how to have a conversation in real time, it's because it kind of was in real life, too.
"Andy Hay kept us separate until we started shooting just to give it that lack of familiarity that sense that we've had time apart. I've not had the director ask that before. My instinct as an actor was to meet Conor for a beer and have a chat and get to know him a little bit," Madeley told IndieWire. "Mrs. Hall knows her little boy. But there's the idea that he's grown up, and she doesn't know how he's been really for the last few years. So that sense of detachment was really useful. Conor's really lovely and easy to get to know, so it gave us that extra barrier and that little tension as we were working."
When Mrs. Hall and Edward do finally meet face-to-face, it's in a busy corridor near the train platform. Compared with the calm, rural pace of Darrowby and a Skeldale House that doesn't hold many people, it's one of the rare "All Creatures Great and Small" sequences to have a big crowd. Having that foot traffic all around the main action was another case of real life heightening the emotions of the scene.
"It's a world in which there were lots of people saying goodbyes. That level of uncertainty of what was was going to happen, how often you were going to meet, and whether you could see each other again was all around us. We had to find our space to have our conversation," Madeley said. "It was quite useful, I think, for the characters to have that buzz around them. It got them through that awkward first moment. They're not having a conversation with the usefulness of a cup of tea and a biscuit and 'Where should we sit?' and all those things that get you through the initial meeting. It was quite organic, in a way. It felt very natural that was how it evolved as a meeting."
For all the activity in that bustling tunnel, "Edward" is a showcase episode for Mrs. Hall because it also gives Madeley the freedom to get across so much without speaking. You almost learn more about her nerves and her response to uncertainty by watching her try to fill the time before Edward arrives. There's a mixture of anticipation and sadness in all of those solitary moments, especially as the benches in the waiting area go from full to empty, except for her.
"We talked through each stage, and at what point her patience runs out. When does she choose to look at the clock? When does she decide to have a cup of tea? We marked all of those things out. So in a way, the psychology was all clear for us as we worked through it," Madeley said. "Sometimes you can rely heavily on text to give you your anchor points. Even in the scenes with Edward, where there's a lot of text, there's a lot of unsaid things going on as well. How they sit and where the bag goes down and the tins of shortbread, they're all part of that storytelling."
Aside from the sequences of Mrs. Hall waiting to meet Edward, there's an overall restraint in this episode that continues when the two eventually come face to face. There's a shared, painful history between the two, particularly when it comes to the actions of Edward's father, a man now effectively gone from both of their lives. It's not explicitly stated in the episode, yet Madeley said that episode writer Karim Khan was able to convey plenty with the minimal details that Mrs. Hall and Edward do allow themselves to acknowledge.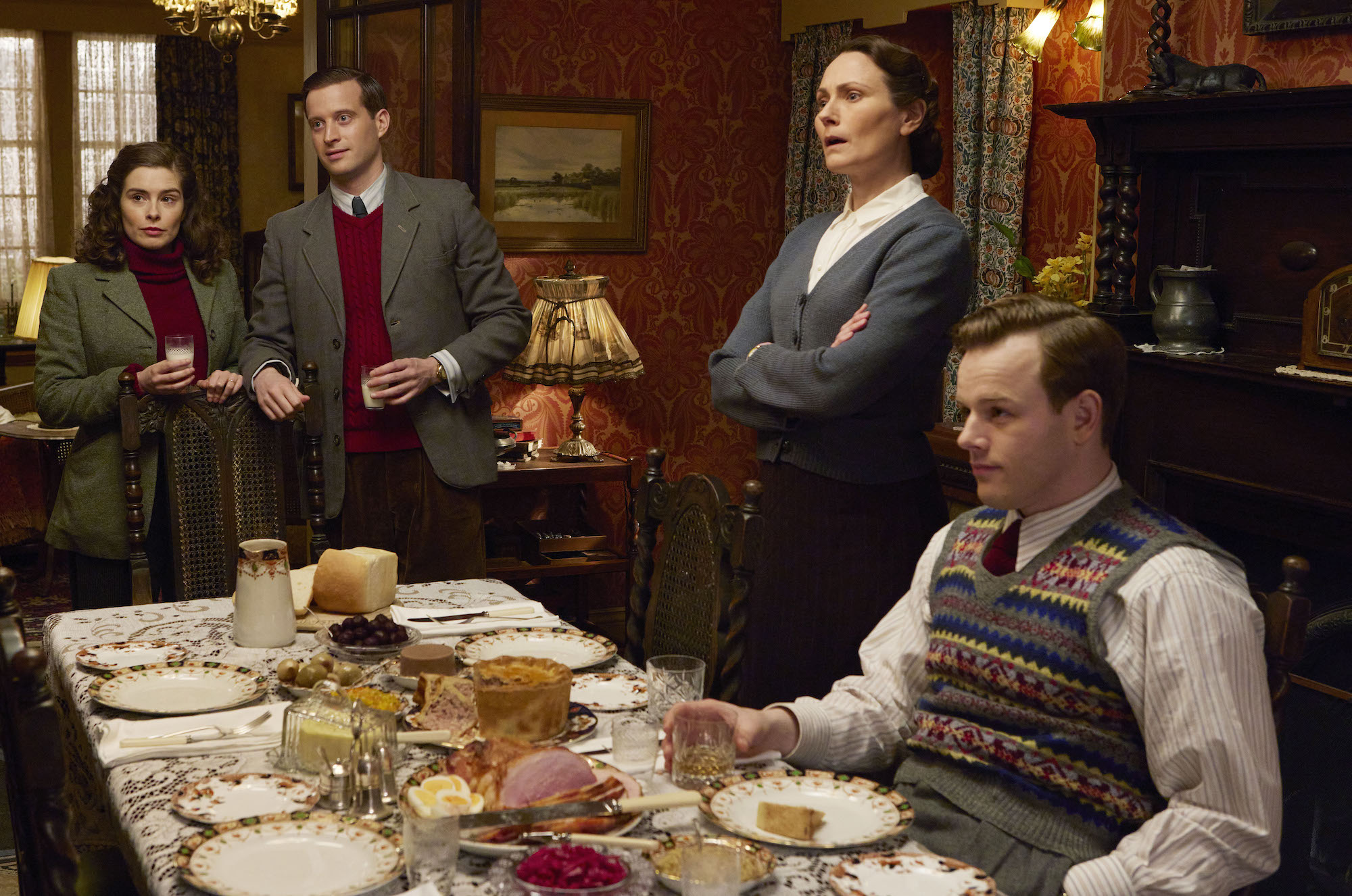 "All Creatures Great and Small"
Helen Williams/Playground Entertainment
"Karim really understood her voice and gave detail to that character. When something's that well written, sometimes you don't need to have the conversation because the writer has done it. Instinctively, it lifts off the page and and you can just do it. It's not always useful to talk it all through," Madeley said. "It leaves the audience room for your imagination to play. You've got what you need to know. I thought that was really, really clever that he's not spelling something out for you or detailing something. You understand what she needs to be able to say to Edward and that she didn't get it right necessarily, but she's tried."
"People who know something very painful, they very often talk around it rather than about it," series creator and showrunner
Ben Vanstone
said. "And while we know what our facts of it are, we trust people that they get subtext and can imagine what went on and don't necessarily need it spelled out to them. We've got the details of that, and they might not be what everyone fully thinks. But that doesn't matter. I think it's the emotion of the moment that matters most."
The untidiness of their time together extends all the way though Edward's awkward leaving. Conversations winding up walkways lead to a devastating spin on the train platform goodbye. Handing off the tin of cookies (or purposely failing to) was just one of the logistical challenges of filming Edward's farewell, particularly as half the station itself was still in regular use.
"The train station is amazing. It's quite funny: on one side, you've got the old steam trains. And then just on the next track, all the modern passengers are getting off and on, commuting. So it was quite a weird mixture of that day," Madeley said. "It was an enormous steam train that couldn't be stopped quickly. The fall of the shortbread at the right time, the anxiety around those things, you can feed that into what you're doing. Having that time limit gave you that urgency. Andy really tries to shoot as much as he can in order, and it was great that he was able to do that on this. The end scenes with the train, if we'd had to do that first, that would have been really hard."
Thematically, that desire to want a different outcome and keep hope alive is something that runs through all of "All Creatures Great and Small" Season 3. As much as the war gives the characters and the show a reason for Mrs. Hall and Edward to finally reunite, there's also the push-pull of so many other people back at Darrowby wondering out loud if it somehow might be averted. As the season enters its home stretch, that tension between an inevitable history and those figuring out their place in it sets the stage for where things might end up.
"You're always trying to find the fun in the series and the love and the joy, but events certainly underscore everything in a way which is unavoidably melancholic. For an audience, we know where it's going to end. So we're always keen to, in some ways, keep our characters hopeful, because they don't know how it turns out," Vanstone said. "It's making sure your characters aren't ahead of the story. In some ways that makes it more tragic. As a viewer, you're watching them talking about, 'Perhaps it won't happen. Maybe we'll be all right, we can just stay here.' But we all know that the dramatic irony of the fact that it's coming for them. There's no escaping it."
"All Creatures Great and Small" airs Sunday nights on most PBS stations at 9 p.m. The series is also available to stream via the PBS app and the PBS Masterpiece Prime Video channel.