Dealt an impossible hand,
Jerrod Carmichael
did just about everything right. To kick off the 2023 Golden Globe Awards — the first ceremony since
NBC
canceled last year's telecast following a slew of accusations against the Hollywood Foreign Press Association — the lead of "The Carmichael Show" and Emmy-winning stand-up special "Rothaniel" slowed things down (telling the crowd of celebrities to "settle"), took a seat (onstage!), and called it like it is: "I'll tell you why I'm here," he said. "I'm here because I'm Black."
While recounting how and explaining why he agreed to host — lingering questions for the discerning comedian's fans, as well as fair questions for anyone watching — Carmichael laid the situation out plainly, in case casual viewers weren't up to speed on the industry drama (which seems very likely, given the fading interest in live awards). "I won't say they were a racist organization," Carmichael said, emphasizing one aspect of the HFPA's
many past transgressions,
"but they didn't have a single Black member until George Floyd died. So do with that information what you will." He also didn't presume any of the organization's promised changes resulted in actual reform ("I took this job assuming they hadn't changed at all"), and he even put a number on his salary for the night: $500,000.
He earned it. Throughout the overlong telecast, he was clever, clear, and relatively concise. Carmichael's storytelling talents have always been top-notch, so rather than contort his comedy to fit molds of past hosts — dropping acidic barbs at audience members amid a direct-to-camera run of broad, semi-topical jokes — he played to his strengths, the crowd, and the moment. It was an excellent monologue, all the way through to a quick but effective pivot to get on with the show. "I'm here, truly, because I look out into this room and I see a lot of talented people. People that I admire," he said. "And regardless of whatever the Hollywood Foreign Press Association's past may be, this is an evening where we get to celebrate. And I think this industry deserves evenings like these. And I'm happy you all are here. And I hope you have some fun tonight."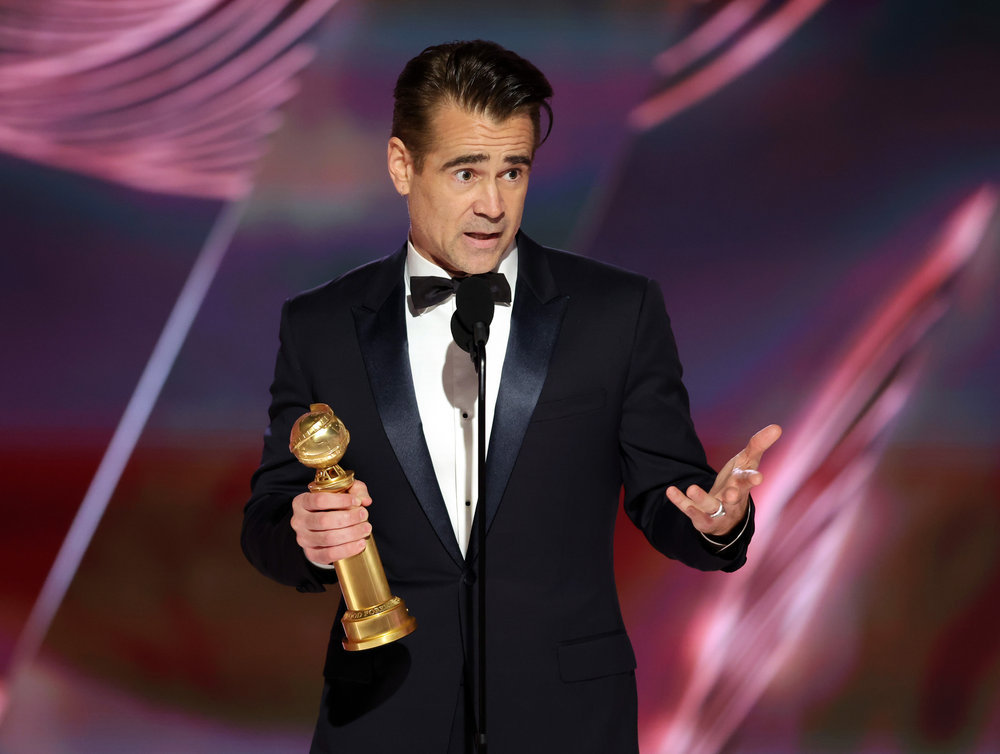 Colin Farrell at the 2023 Golden Globe Awards
Rich Polk / NBC
How do you marry two opposing ideas? The idea that a regularly biased, historically disingenuous organization doesn't deserve your attention, and the idea that clapping and cheering, at home or in person, for each award they dole out is a perfectly worthwhile endeavor? You can't. Not really, but trying to separate the party-throwers from the party-goers is as good an attempt as any for a show that must, for whatever reason, go on.
The only problem: Not everyone got the message.
How could they? A host can direct their guests toward a desired theme or proposed ideas, but in the end, everyone goes their own way. For those who vibed with Carmichael's monologue, it was hard to connect with any HFPA-directed sincerity during the ensuing speeches. Ke Huy Quan? Outstanding. Why? In part, of course, because Quan has already proven himself an effusive charmer onstage, but here specifically because he started by sweetly shouting out Steven Spielberg, his "Indiana Jones and the Temple of Doom" director, for "giving me my first opportunity," and then steered his speech around his career since his childhood breakthrough (and, of course, those involved with the film he won for, "Everything Everywhere All at Once").
Colin Farrell nailed it, too. Before even acknowledging the trophy handed to him, he made sure to tell Ana de Armas (and the world) how much her work in "Blonde" moved him. ("It's not a joke," he said to a few surprised audience members. "But you're welcome to laugh!") He shared a few fun stories from the "Banshees of Inisherin" set — namely, that he shared a house with co-star Barry Keoghan, who stole Colin's corn flakes(!!) — and wouldn't be stopped when it came to showering his cast and crew with love. ("You can forget that piano!")
(Side note: The piano became an unexpected focal point of the night, first when Jerrod Carmichael rightly called for a round of applause for pianist Chloe Flower after her first few fun riffs on film scores. But then, as producers started worrying about the clock, speeches were cut short by what sounded like the same piano. In reality, it was a recording controlled backstage, which Carmichael graciously informed us of later in the show, after everyone from Austin Butler to Michelle Yeoh complained on stage. That's certainly not the celebrity-friendly look the HFPA hoped to achieve in its comeback show, but dems the breaks when you're running a live telecast on broadcast TV.)
Jennifer Coolidge at the 2023 Golden Globe Awards
Rich Polk / NBC
Some performers shined simply by being themselves. Jennifer Coolidge had the room reeling as a presenter, when she explained why she almost didn't accept the gig — out of fear of embarrassing herself, not anything to do with the HFPA's scandals — which made it all the more thrilling when she was invited back on stage as a winner (turning Mike White's tears of laughter to tears of joy). Regina Hall nearly topped Carmichael's
Scientology joke
by calling out Kevin Costner's excuse for not attending the ceremony. Hall burst into repeated fits of laughter trying to deliver the teleprompter's message: that the heavy rain forced the "Yellowstone" star to "shelter in place — in Santa Barbara, Jesus," she said. "Let's pray, everyone." And last but certainly not least was Natasha Lyonne, who turned a joke about the show running long into pure poetry: "The only true villain here is time herself — aka Death's Chariot," she said. "And since time facilitates death, it's wisest to keep her beat."
But where Guillermo del Toro and Quinta Brunson (twice!) played to the room by honoring the art and artists or bringing in a bit of levity — even Eddie Murphy, receiving a
lifetime achievement
award, ended on a joke — Angela Bassett's overwhelmed energy didn't sit right. Neither did Tyler James Williams', though at least this marked his most notable win to date. Plenty of winners were either surprised or acted like it, resulting in more adrift or forgettable speeches than spontaneous hits, and the show's baggage put recipients in an unenviable position (unless they didn't show up, like Cate Blanchett, Zendaya, and more). Being stunned when thrust in front of the spotlight is natural, but concentrating on the award itself — like when Bassett recalled her first Globes win in 1994 for "What's Love Got To Do with It" before quoting Toni Morrison and implying that this award was her "destiny" — is both unnecessary and ill-advised. Thanking your host is good manners and all, but — as was evident from Carmichael's opening monologue, if not before — such grandiose sentiment is more than the Globes deserve. (Even if it may be what Oscar voters, who some believe weigh their ballots based on precursor speeches, want to hear.)
Other polite but forgettable "thank you" speeches dotted the night, making it less of a raucous party and more of an average awards show — which just invites attention back to who's handing out the awards, a recurring yet unavoidable problem. In the end, the more you think about the
Golden Globes
, the harder they are to enjoy, let alone sit through. But even the "shut your brain off" entertainment value was lacking in 2023. Carmichael proved himself a distinct, snappy, and suave host. (Those unremarked upon costume changes were an absolute highlight.) But with awards shows in general facing steep viewership declines, the Globes' return failed to provide any unique reason this particular show is worth saving.
Grade: C+​
The 80th Annual Golden Globe Awards were held Tuesday, January 10 at the Beverly Hilton Hotel in Los Angeles, California. The telecast is available to stream via Peacock.