​
Multiple heavyweight series return this spring, which will have a big impact on the 2023 Emmy craft races, particularly with the final seasons of
"Succession,
"
"Barry,"
"The Marvelous Mrs. Maisel," "Star Trek: Picard," and possibly
"Ted Lasso."
Plus, "
The Mandalorian"
is back and should continue its craft domination, while there are opportunities for improvement for new seasons of
"Yellowjackets,"
"The Great," "Schmigadoon!," and "Perry Mason."
Before looking ahead at potential opportunities, it's worth noting past Emmy performances.
"The Mandalorian" has set a new standard of excellence as the "Star Wars" crown jewel of Disney+. Powered by ILM's revolutionary StageCraft virtual production Volume platform, the sci-fi bounty hunter series starring Pedro Pascal, has amassed 14 craft wins in two seasons for cinematography, VFX, score, sound mixing, stunt coordination, production design, prosthetic makeup, and stunt performance.
"The Marvelous Mrs. Maisel" (Amazon Prime Video), the period comedy-drama about the titular stand-up (Rachel Brosnahan), has collected 10 craft Emmys in four seasons for music supervision, cinematography, costumes, makeup, hairstyling, editing, sound mixing. But it's looking for a comeback after last season's disappointing eight craft nominations and no wins.
"Barry" (HBO), the black comedy about the titular hit-man-turned-aspiring actor (star and co-creator Bill Hader), earned six craft Emmys in three seasons, including two apiece for sound editing and mixing, and one each for editing and stunt coordination.
Brian Cox in "Succession"
Courtesy of Macall B. Polay / HBO
"Ted Lasso" (Apple TV+), the comedy-drama (starring and co-created by Jason Sudeikis) as the American soccer coach in Britain, grabbed two craft wins in its first season (editing and sound mixing), but came home empty-handed out of six nominations for Season 2. However, "Succession" (HBO), the reigning winner for Outstanding Drama Series about the dysfunctional Roy media conglomerate clan, has only managed two craft Emmys, for its main title theme music and for editing.
Similarly, it was rough going the first time out for "Perry Mason" (HBO) and "Yellowjackets" (Showtime): The period legal thriller starring Matthew Rhys came away with only two craft nominations (cinematography and production design), while the cannibalistic thriller received none.
"The Mandalorian" Mixes It Up in Season 3
With a reunited Din Djarin/Mando (Pascal) and Grugu (Baby Yoda) taking on greater responsibility to protect the scattered and divided Mandalorians, creator Jon Favreau called for a larger visual scale, pushing production further beyond the limits of the StageCraft Volume. Seasons 1 and 2 were an ideal fit to pioneer the new technology, but, as Season 3 pushed the storyline to non-Volume friendly lighting environments, Favreau and the ILM team needed to do more traditional location and set-based shooting.
So, while the prospects look good once again for craft domination, the one area for improvement is production design, where it fell short last time. But thanks to the more complex and visually arresting environments — such as Din's devastated desert planet, Mandalore — production designers Doug Chiang (also Lucasfilm's executive creative director) and Andrew Jones, who built the physical sets, should be leading contenders.
"The Marvelous Mrs. Maisel" Gets Trippy in Season 5 Finale
After the disappointing Season 4, creator Amy Sherman-Palladino finishes Maisel's story in wild, time-bending fashion: flashing back to the '50s and jumping ahead to the '70s and '80s, while staying firmly planted in the '60s. Which means more elaborate period visual and
musical
trappings for the Emmy-winning crafts team, which could end on a high note, especially for cinematographer M. David Mullen, music supervisor Robin Urdang, composers Thomas Mizer and Curtis Moore, costume designer Donna Zakowska (who hasn't won since the second season), and production designer Bill Groom, who has been nominated four times without a win.
"Barry" Behind Bars in Season 4 Finale
The mask is off for Barry (Hader). Last season ended with him going to prison for his crimes as a hitman, and now he must try to put an end to his torment and find redemption. That's a lot of emotional baggage for an aspiring actor to draw from. Obviously editing, sound editing and mixing, and stunt coordination are in play once again, but there's one last chance to break out of another category. Maybe stunt coordination, given the prison setting? Or production design, given the juggling of all the locations, including those related to the Hollywood storyline.
"Ted Lasso" Faces a Reckoning in Potential Final Season
Whether official or not, this sure seems like the end of the line for Ted Lasso (Sudeikis). The easygoing, optimistic American football coach suddenly feels trapped in London because of his unresolved personal issues. Apparently, there was a lot of soul-searching during the two-year break between Seasons 2 and 3, and the result is this existential crisis that must now be resolved. Like "Mrs. Maisel," "Ted Lasso" comes off of a disappointing Emmy season. But with more of the scrappy underdog dynamic that defined Season 1, there could be a return to form with another two wins for editing and sound mixing.
Jason Sudeikis in "Ted Lasso"
Courtesy of Colin Hutton / Apple TV+
Can "Succession" Generate More Craft Awards in Season 4?
It all comes to a head for the Roy family in this Shakespearean tragedy from creator Jesse Armstrong with billions at stake. As IndieWire's
Ben Travers
writes, the season "is here to annihilate you." And, in due course, we're treated to the culmination of all the macro financial maneuvers and micro blood feuds. But, in terms of crafts, will the TV Academy do more to honor its most prestigious drama than merely Bill Henry's editing?
Nicholas Britell's
brilliantly experimental score as a combination of classical and hip-hop to evoke the precariousness of power is deserving. And, really, the production design of Stephen H. Carter and costume design of Michelle Matland should be in the mix as well, despite their low-key nature.
"Star Trek: Picard" Returns to the '90s in Season 3
In its final season, "Picard" looks forward, not back, as IndieWire's
Christian Blauvelt
observes. And yet showrunner Terry Matalas reunites Picard (Stewart) with his former Enterprise crew of "The Next Generation" in a very cohesive way. This meant stylistically finding continuity with the '90s shows "The Next Generation," "Deep Space Nine," and "Voyager." Thus, they brought back Denise & Michael Okuda, the production designers on those shows. Look for them to be in the craft mix for their work on the USS Titan. Also, the VFX has been unique in evolving elements from the '90s shows. They've brought back the Changelings, who were villains on "Deep Space Nine." Amanda Plummer plays Vadic However, and the morphing effect is much improved through a fusion of physical makeup and VFX.
"Schmigadoon!" Goes Fosse in Season 2
Season 2 of
"Schmigadoon"
picks up with Josh (Keegan-Michael Key) and Melissa (Cecily Strong) back in the modern world, but longing to return to their "Brigadoon"-like magical adventure. But now creators Cinco Paul and Ken Daurio conjure a "Schmicago" environment, partially inspired by Bob Fosse's "Chicago." Aside from being competitive once more with Outstanding Original Music And Lyrics, perhaps the team to can make headway with Bo Welch's production design, Christopher Willis' score, and Christopher Gattelli's choreography.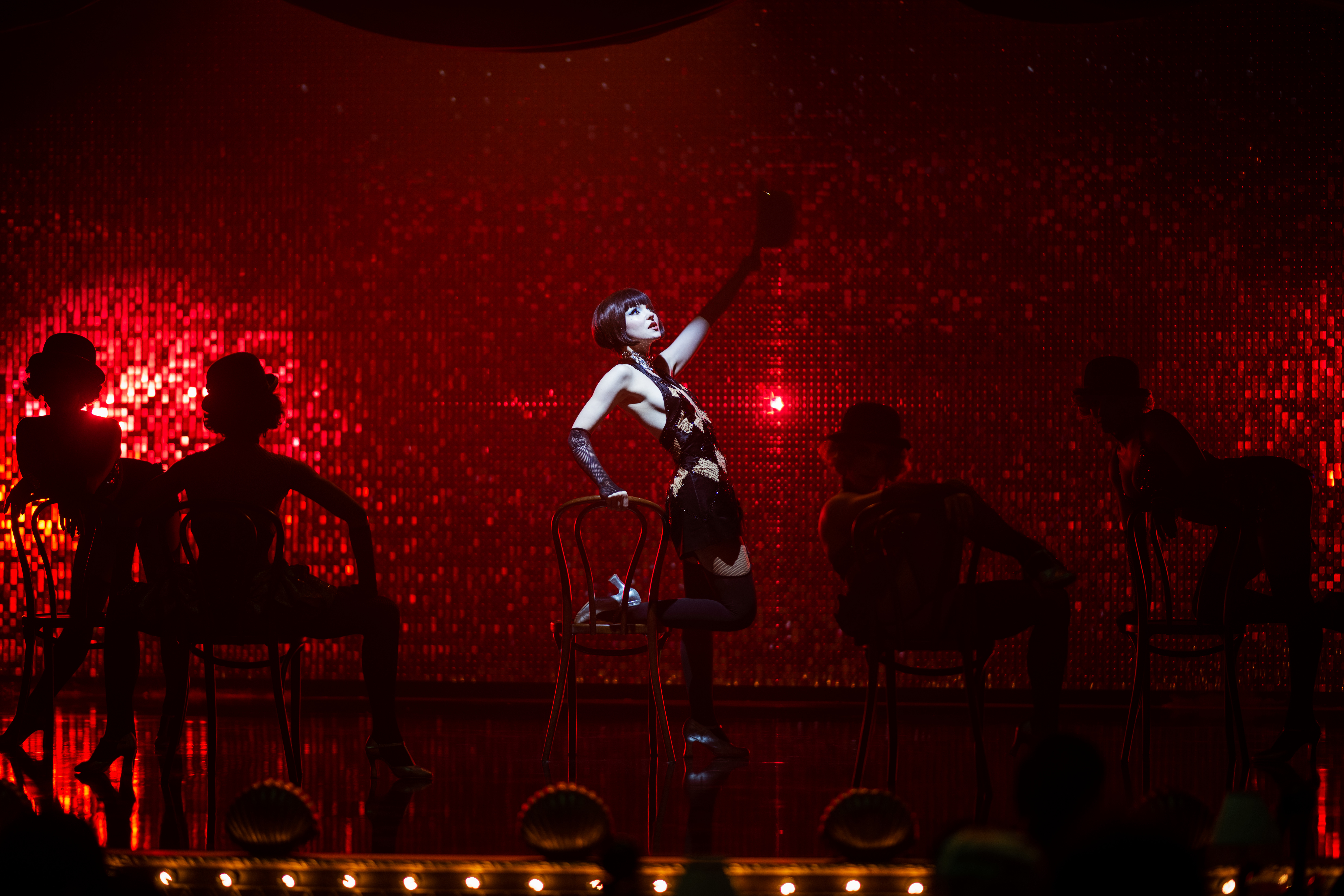 Dove Cameron in "Schmigadoon!" Season 2
Courtesy of Apple
"The Great" Has Momentum for Season 3
After finally breaking through with a costume win in Season 2,
"The Great"
has greater craft opportunities in Season 3 for Sharon Long's production design and Nathan Barr's score. This season it's all about the court, as Catherine (Fanning) and husband Peter III (Nicholas Hoult) try to make their marriage work in screwball fashion.
"Perry Mason" Hits its Stride in Season 2
The legal thriller returns to L.A. in the '30s with a few tweaks in further exploring Mason's (Rhys) new legal career and confronting the corrupt system. Jack Amiel and Michael Begler ("The Knick") are the new showrunners, and while the show is still a gritty noir, it's more accessible in its storytelling. That's why it sports a different look with a new cinematographer (
Darran Tiernan
) and production designer (
Keith Cunningham
). Tiernan goes a little brighter and warmer and gets more subjective in his camera work, while Cunningham further conveys the contrasts between the haves and have-nots. This just might be a breakthrough Emmy season.
"Yellowjackets" Raises the Stakes in Season 2
The arrival of winter in the cannibal era for the soccer teens stranded in the wilderness provides a stark contrast to Season 1 of "Yellowjackets." Creators Ashley Lyle and Bart Nickerson make it so that everything in the past is covered in snow, while the present offers a creepy cult/wellness compound for the adults to infiltrate. The problem of snow created quite a challenge for production designer
Margot Ready.
Maybe this extra dimension will lead to an Emmy craft nomination for Ready.