The Oscar submission deadline (October 3) has returned to its pre-pandemic place on the awards calendar, with the
Best International Feature Film
shortlist announced on December 21. As always, film festivals are the gatekeepers for the Best International Feature Oscar race, offering up reviews, press, and prizes.
Sundance 2022 delivered World Drama awards for jury-winner "Utama," Bolivian filmmaker Alejandro Loayza Grisi's portrait of aging llama herders trying to survive a drought, and Finland's coming-of-age story "Girl Picture," from Alli Haapasalo, which won the Audience Award.
Winning the top prize at Berlin in February was another rural family drama, Carla Simón's "Alcarràs," about Spanish peach farmers, although Spain could also go with "Official Competition," starring Oscar favorites Penelope Cruz and Antonio Banderas, which the Academy booked in its Goldwyn Theatre screening series.
A festival prize at Sundance or
Cannes
boosts a film's chances of being submitted for the Oscar by its home country, although neither Swedish-Egyptian filmmaker Tarik Saleh's "Boy from Heaven," which won the Cannes Screenplay prize, nor Iranian-Danish Ali Abbasi's "Holy Spider" (Utopia), which won Best Actress for Zar Amir Ebrahimi as a journalist fighting for justice for slain prostitutes, will be submitted by Egypt or Iran, respectively. Both filmmakers are persona non grata in those countries for taking on taboo subjects. (Sweden and Denmark are likely to do the respective honors.) And Iran may submit Cannes Competition title "Leila's Brothers," Saeed Roustayi's family drama.
Most of the non-English-language films at Cannes that could wind up in the Oscar race will compete for Best International Feature Film, although in recent years "Parasite," "Cold War," "Drive My Car," and "Worst Person in the World" wound up competing in other races as well, including Screenplay, Cinematography, Director, and Picture. And this year, Denmark's "Flee" competed in three categories including International, Documentary, and Animated Feature.
It's unlikely that Japan will submit Korean production "Broker" (Neon), even though it's directed by Japanese Cannes regular and 2018 "Shoplifters" Palme d'Or winner and Oscar nominee Hirokazu Kore-eda, whose Korean star Song Kang Ho ("Parasite") took home the Cannes Best Actor prize. Korea is more likely to submit Cannes Directing prize-winner Park Chan-wook's stylish noir policier "Decision to Leave" (Mubi), starring Tang Wei ("Lust, Caution") as a femme fatale suspected of murder.
Vicky Krieps plays a rebellious empress in "Corsage."
IFC Films
The shared Cannes Jury Prize went to two films picked up by "Drive My Car" distributor Sideshow and Janus Films: Poland's "Eo" ("Hee-haw"), from puckish 84-year-old Cannes perennial Jerzy Skolimowski, and "The Eight Mountains," co-directed by Belgian husband-and-wife team Charlotte Vandermeersch and Felix Van Groenigen, who learned Italian in order to direct this Italian production that could become Italy's Oscar entry.
A third Sideshow and Janus Films pickup is "Tori and Lokita," from Belgium's Jean-Pierre and Luc Dardenne, who have won the Palme twice before ("Rosetta," "L'Enfant"), and settled for a Special Prize for the 75th anniversary of the festival for their moving drama about two African refugees under duress. Belgium has submitted their films three times, Van Groenigen twice, and Lukas Dhont once ("Girl"). They may go with the 31-year-old filmmaker again, as his tender gay relationship drama "Close" shared the second most important award, the Grand Prix, with another A24 film, Claire Denis' English-language romance "Stars at Noon."
The veteran French filmmaker also won Best Director at Berlin this year for a film in her native language,
"Both Sides of the Blade,"
starring two powerhouse stars, Oscar-winner Juliette Binoche ("The English Patient") and Vincent Lindon ("Titane"), one of several Oscar possibilities from France, which tends not to submit movies that debuted in Berlin. The others are Cannes Competition title "Mother and Son," from Léonor Seraille, and Mia Hansen-Løve's touching Léa Seydoux relationship drama "One Fine Morning" (Sony Pictures Classics), which played Directors' Fortnight. The French selection committee, dominated by Cannes director Thierry Fremaux, has never submitted films from Denis or Hansen-Løve, and may consider them both "women's pictures." In recent years, France selected Ladj Ly's "Les Miserables" over Céline Sciamma's "Portrait of a Lady on Fire," but did submit Franco-Turkish production "Mustang," directed by Deniz Gamze Ergüven.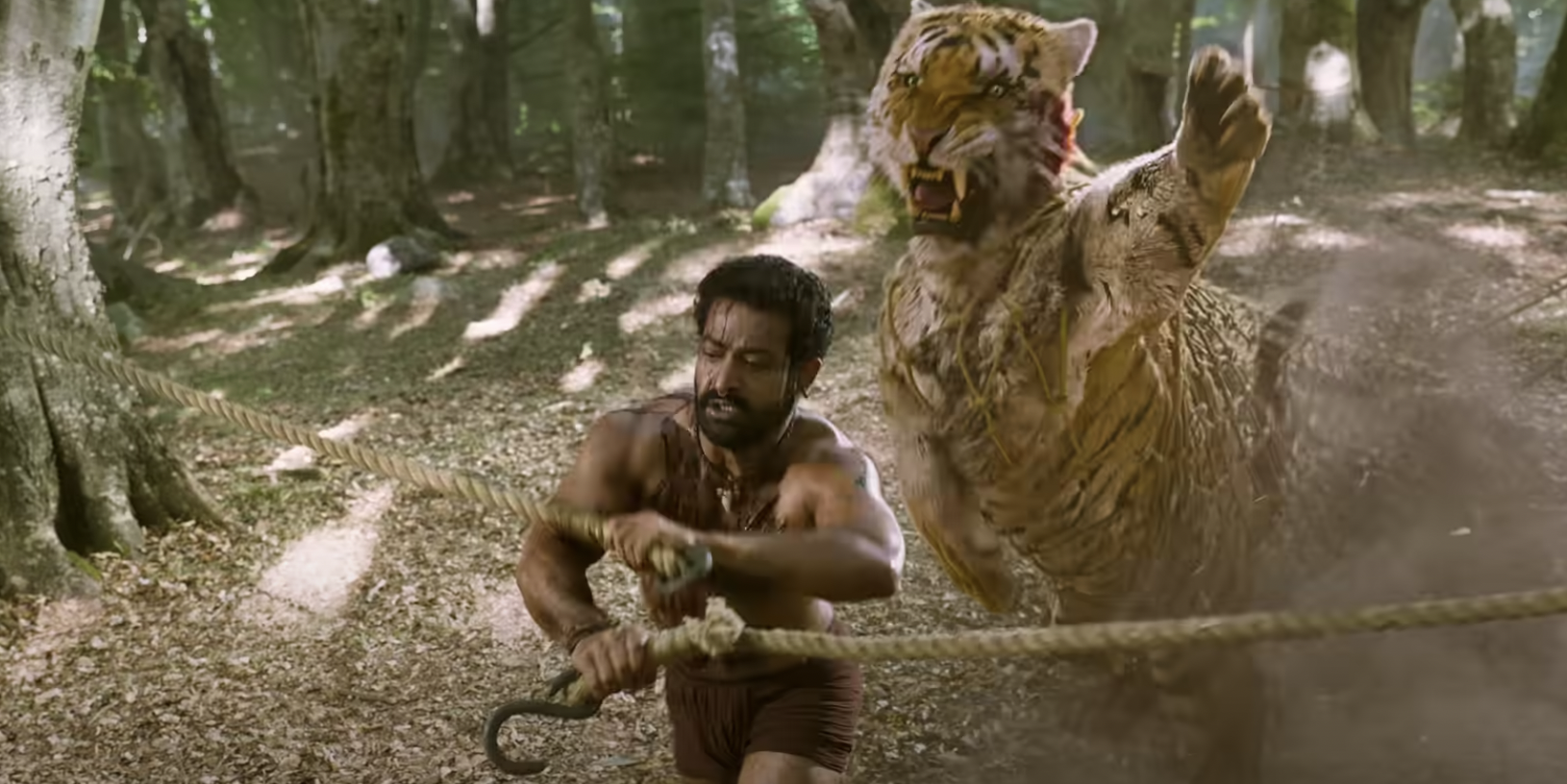 "RRR"
DVV Entertainment
For its part, Austria will likely submit veteran filmmaker Marie Kreutzer's irreverent costume drama "Corsage," starring Berlin-based actress Vicky Krieps ("Bergman Island") as Austria-Hungary's rebellious Empress Elisabeth ("Sissi"), which would have played well in Competition. Krieps shared the Un Certain Regard Best Actress award. With the right handling from IFC Films, the revisionist 19th-century royal drama could compete for Best Actress and Costume Design, as well as International Feature Film.
Breaking out over the summer was a global blockbuster that did not play major festivals, S.S. Rajamouli's three-hour Tollywood historical epic "RRR," about two athletic best friends (mega-stars N.T. Rama Rao Jr. and Ram Charan) who are turned against each other by the forces of history. India does not always make the right Oscar picks, but should not miss this opportunity to score at least Best International Feature Film. This auteur boasts choreographic action chops, emotional intelligence, and the bravura imagination of a Sam Peckinpah, John Woo, or George Miller. We have not seen stunts of this caliber since "Mad Max: Fury Road," which won six craft
Oscars
. And if Danny Boyle's "Slumdog Millionaire" could score eight Oscars including Best Picture, Director, and Score for composer A.R. Rahman, launching the careers of Dev Patel and Freida Pinto, why can't "RRR" take a run at some major categories and craft awards as well?
New films will premiere on the fall festival circuit, including auto-fiction "Bardo," which marks Oscar-winner Alejandro González Iñárritu's return to Mexico; Netflix promises a promotional push on the level of his amigo Alfonso Cuarón's "Roma." Another movie to look out for is Santiago Mitre's 80s historical drama "Argentina, 1985" (Amazon), starring Ricardo Darín (Oscar-winner "The Secret in Their Eyes," Oscar-nominee "Wild Tales").
Contenders for the shortlist of 15 are listed in alphabetical order. (The list is frequently updated as countries make their submission choices.) No film will be deemed a frontrunner until I have seen it.
"One Fine Morning"
Sony Pictures Classics
Frontrunners
"Both Sides of the Blade" (Claire Denis, France)
"Corsage" (Marie Kreutzer, Austria)
"Decision to Leave" (Park Chan-wook, Korea)
"Holy Spider" (Ali Abbasi, Denmark)
"One Fine Morning" (Mia Hansen-Love, France)
"RRR" (S.S. Rajamouli, India)
"Tori and Lokita" (Luc and Jean-Pierre Dardenne, Belgium)
"Utama" (Alejandro Loayza Grisi, Bolivia)
Contenders
"Alcarràs" (Carla Simón, Spain)
"Argentina, 1985" (Santiago Mitre, Argentina)
"Bardo" (Alejandro González Iñárritu, Mexico)
"Broker" (Hirokazu Kore-eda, Korea)
"Close" (Lukas Dhont, Belgium)
"The Eight Mountains" (Charlotte Vandermeersch and Felix Van Groenigen, Italy)
"Eo" (Jerzy Skolimowski, Poland)
"Girl Picture" (Alli Haapasalo, Finland)
"Godland" (Hlynur Pálmason, Iceland)
"Mother and Son" (Léonor Seraille, France)
"The Quiet Girl" (Colm Bairéad, Ireland)
"RMN" (Cristian Mungiu, Romania)