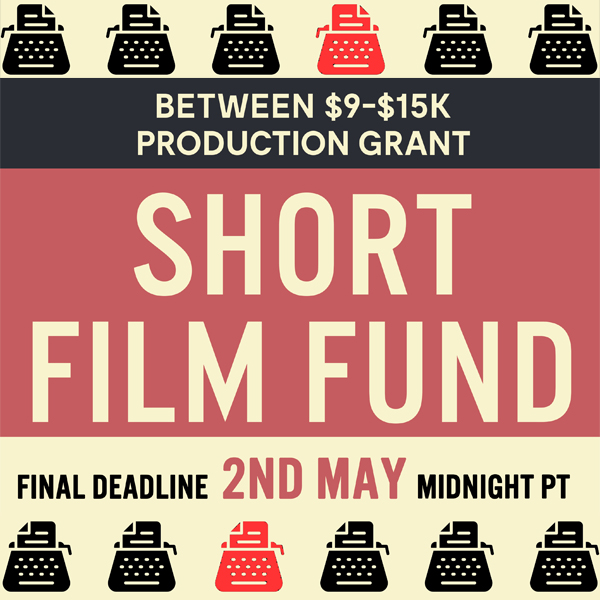 Don't miss this opportunity to become a produced screenwriter, submissions close this Tuesday 2nd May.
ENTER YOUR SCRIPT HERE: https://www.shorescripts.com/shortfilmfund/
Shore Scripts will commission at least one short film from this year's winning scripts and, in addition to the funds, will support the production with expertise, staffing, guidance, free equipment, marketing, festival applications and more!
REASONS TO ENTER:
JUDGES
The produced Short Film(s) will be sent to 36 OSCAR, BAFTA, EMMY & GOLDEN GLOBE winning Judges, putting your film in front of the best people in the industry.
PRIZES
Between $9-15K Production Budget to make your Short Film.
INDUSTRY ROSTER
The produced Short Film(s) will be sent to our complete roster of 80 production companies, agents, and managers.
SCRIPT SCORE
You will be able to view your script score, so you can see how professional readers have assessed your script.
SUCCESS STORIES
This year, our 2016 Short Film Fund winner is premiered her film at the Tribeca Film Festival. Our 2017 winner had their industry screening at Working Title. And our other 2017 winner started shooting in LA this month. We have also helped 40+ writers gain representation, option, sell, and even have their screenplays produced.
DISCOVERY PLATFORM
We've partnered with Coverfly to handle all submissions. As well as our judges and roster, you have the choice to make your script available to hundreds more industry professionals on their platform for no additional fee. This is entirely optional – you can be as private or public as you like.
Get entry discounts on combined category entries and on submission & coverage packages.
For all the details go to: https://www.shorescripts.com/shortfilmfund/